There is nothing quite as rewarding as sweating it out among the fynbos surrounding Cape Town on foot. With a network of hiking trails that criss-cross across a spine-like mountain range that stretches all the way from Table Mountain to Cape Point, there is plenty on offer from beginner to the most experienced hikers.
Key Considerations for Hiking India Venster
Platteklip is the advised safer route for less experienced hikers 
Hike not for people with walking difficulty
Total Distance 2.5km - Challenging
Checking the weather is very important for safety
Cableway Ticket Required if you want to take it down
Do not leave too late (Cable car times)
Safety first
Places to stay in
Cape Town
The India Venster trail is notoriously one of the most challenging hikes up the front face of Table Mountain you can find. With what seems like a never-ending sheer cliff face and an intimidating set of chain and staple ladders many a hiker has found the 2.5 kilometre hike putting their fitness, and their fear of heights, to the test.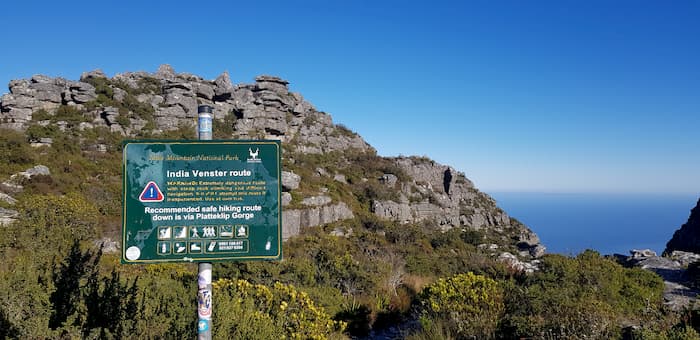 The India Venster Route from the top of Table Mountain. Photo Jay Caboz
The trail is a bad rep for being challenging when the conditions are wet when the rocks are slick and treacherous to climb over.
Still, it's not nearly as bad as what people make it out to be. If you follow the trail's yellow footprint indicators and use your common sense, it's one of the most enjoyable hikes on the front side of Table Mountain, and you'll be able to see some of the best views that Cape Town has to offer.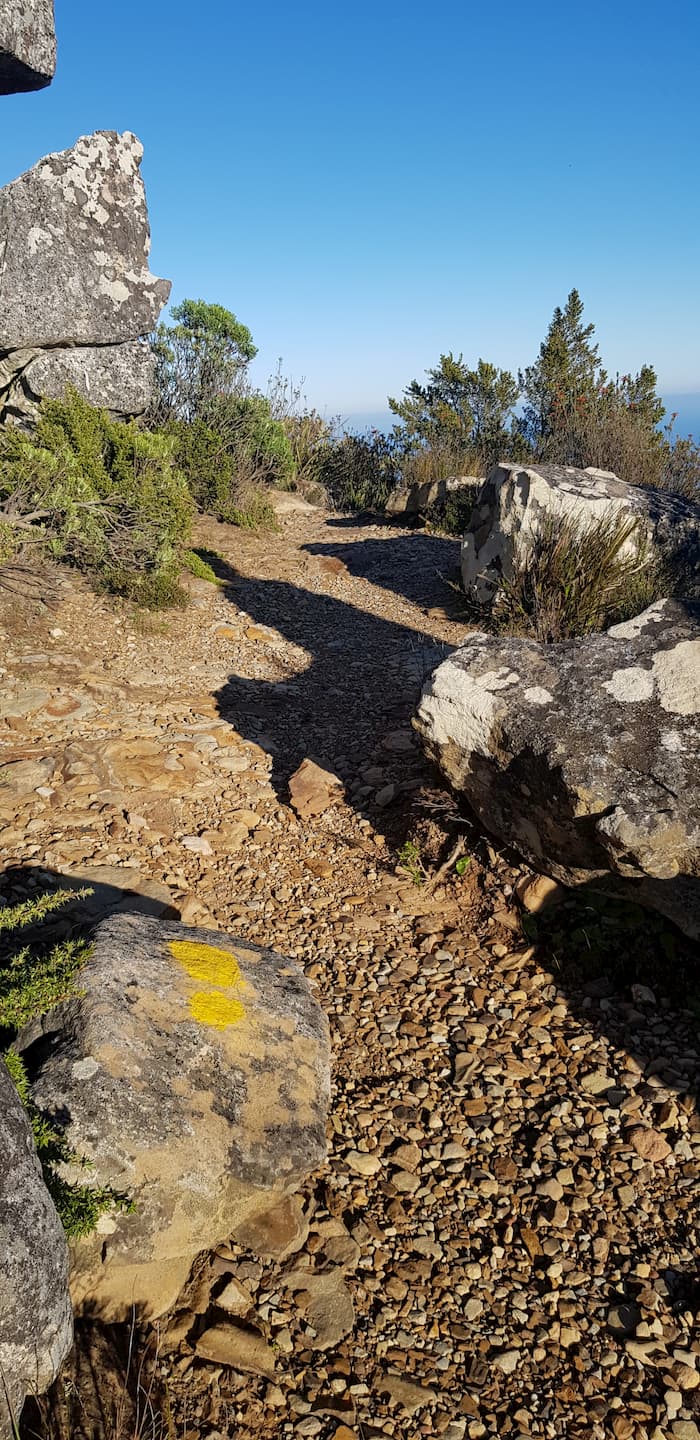 Follow the yellow footprints. Photo Jay Caboz
I recommend starting this hike early in the morning. If you are brave enough, bring a flask of coffee and some snacks and go up before sunrise to get an epic sunrise before continuing your journey. You won't regret it.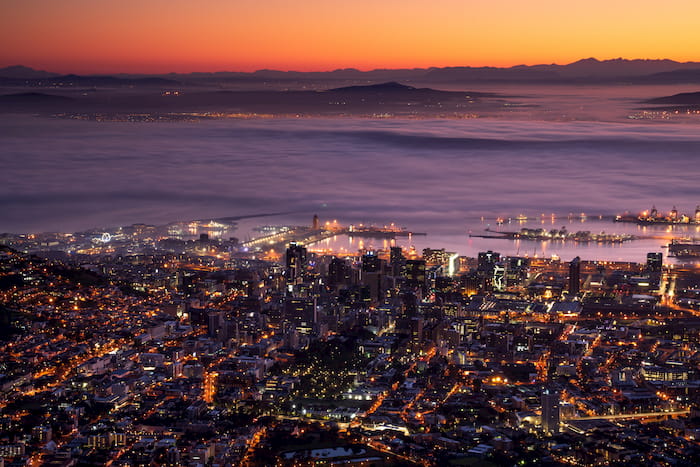 An early morning hike is well worth the effort. About 45 minutes up you'll get unrivalled views of Cape Town. Photo Jay Caboz
I recommend starting this hike early in the morning. If you are brave enough, bring a flask of coffee and some snacks and go up before sunrise to get an epic sunrise before continuing your journey. You won't regret it. Remember to check the weather before you go. 
Table Mountain Cape Town Weather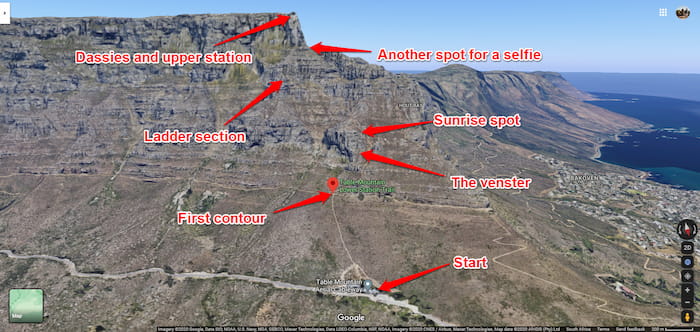 India Venter route. Source: Google Maps
Start of the route. Source: Google Maps
Here's how you do it:
The hike starts innocently from the lower Table Mountain Ariel Cable Station. This is probably the most challenging part of the hike as the trail climbs steeply. Go too fast out the gate, and you'll be left gasping for air, even if you are an experienced hiker.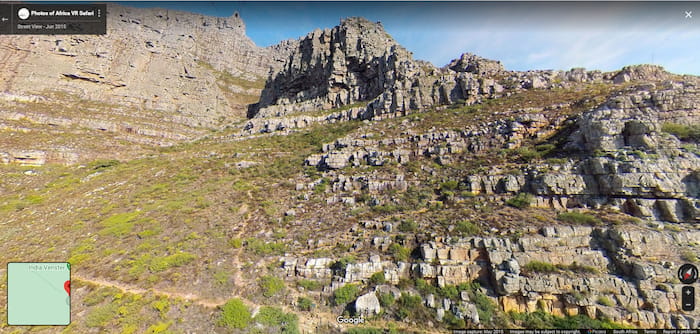 Contour Path. Keep going UP! Source: Google Maps
After about 20 minutes, you'll reach a contour path. Follow the sign indicating the India Venster route and continue climbing up.  
Fifteen minutes later and you'll find the actual India Venster - a large set of boulders that makes a window that looks straight on to the cable cars behind it.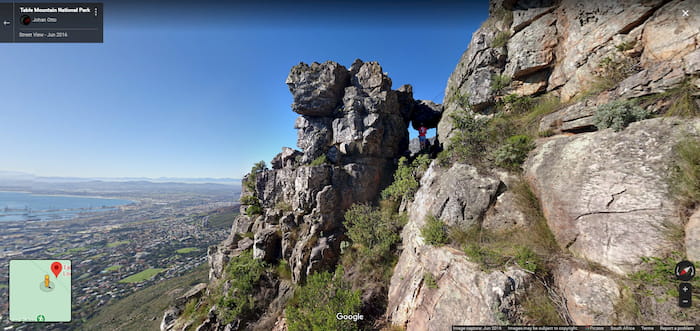 The 'venster' or window along India Venster. Source: Google Maps
The venster (which means window in Afrikaans) is about 150 meters off the main path and well worth the detour for an instagram-selfie.
At this stage anyone would be forgiven for thinking it was anything but a party. In fact, it's right at this moment, somewhere between boulder 1,000 and prickly fynbos 200, that many people start thing it's time to throw in the towel and head back.
But don't despair. You've done a good part of the heavy slog. This is where the fun begins.
Continuing upward takes you to the top of a gully which holds a fantastic spot to look back down on the city below.
If you can bear getting up early enough, this is an amazing spot to watch the sunrise from, especially if there is fog rolling through the city.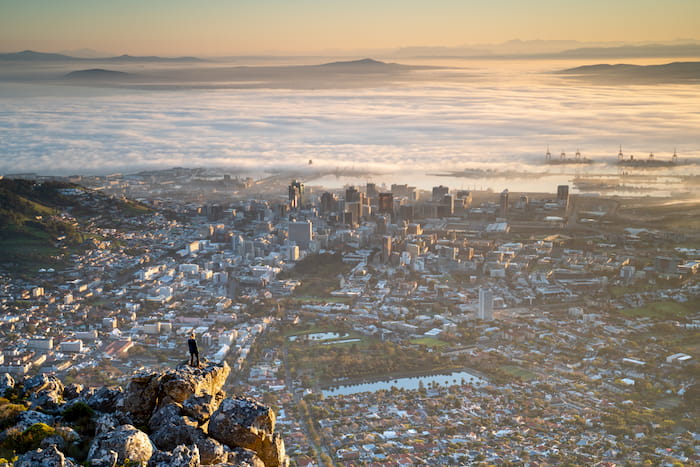 It's a great time to sit back and take some epic photos over Cape Town. Photo Jay Caboz
For motivation: it was at this point that I too was thinking about turning around. I was drenched in sweat and breathing heavily. But then a lady sprang past me like a cheeky Tarr.  Jumping from boulder to boulder she's carrying a black handbag around her hip as if she is out for a Sunday stroll on the promenade.
Then another takeback - a couple walks past with their pet French poodle. It's got a tennis ball in its mouth and its racing up and down the narrow path.
As they too zip past, all I can think about is if a poodle and lady that looks as if she could be shopping in Sandton City can be on this trail, then India Venster can't be can that bad at all.
And with that mind it was time to chug my way up even further.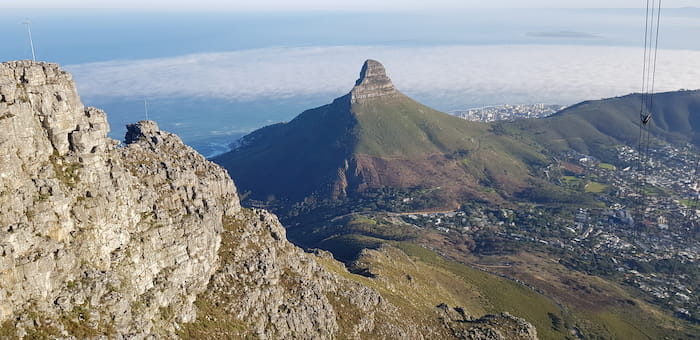 Walk past the King Protea section and you'll find yourself right under the base of the upper cable Station. Perfect time for pictures. Photo Jay Caboz
About hour up (in total) you'll reach the section of chains and ladders – it's probably the most daunting segment of the hike.  The first two ledges have an intimidating vertical drop.
You'll pop out not too far below the cable station at the top of Table Mountain. A short distance further past a section of King Protea and you'll find a perfect spot to grab a shot of the cable cars as they make their way to and from the stations.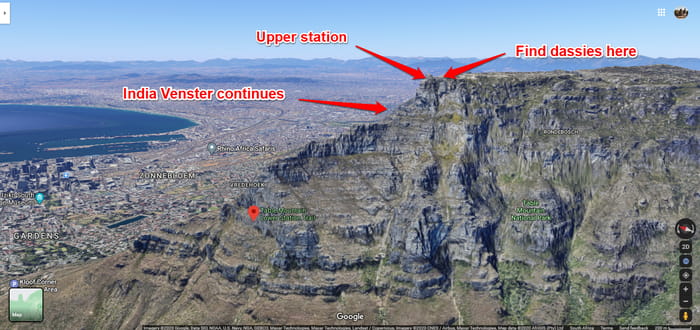 The upper section of the India Venster trail, rounds around the base of the station. Source: Google Maps
From here the path winds around the base of the upper cable car stations and you'll be blown away with amazing views of Camps Bay and Clifton's string of lovely beaches as well as views over the 12 Apostles, and Atlantic coast as we hike below massive sandstone cliffs to the summit.
Continue to reach the crisscrossing paths on the top of Table Mountain.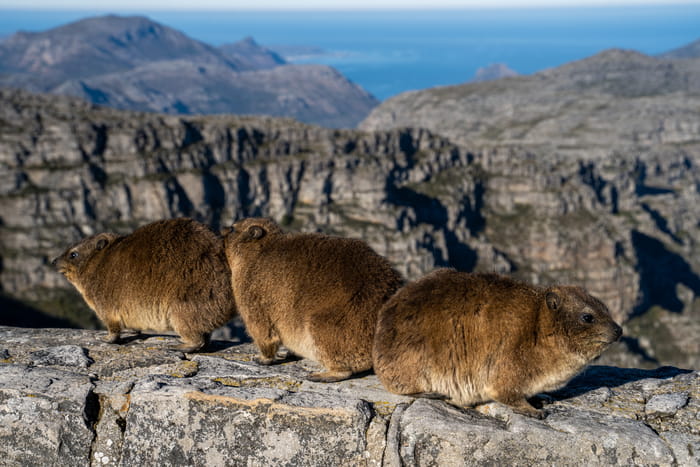 Going back via the Table Mountain Aerial Cableway be sure to keep an eye out for the colony of cute dassie that hang around. Photo Jay Caboz
From here it's either a short walk back to the upper cable station to catch a ride down or you can choose to continue the adventure by hiking down Platteklip Gorge, another infamous hiking trail along the front of Table Mountain. (This trail is less exciting than India Venster but easier to navigate on the way down.)
All in all, it took us a little over 2.5 hours hiking to reach the top.
And before you know it, time to go down. Photo Jay Caboz
What you need to bring
Do not be fooled by the popularity of Table Mountain hiking; it is still a mountain, and it is essential to have the right equipment for safety and comfort.
- Water at least 1L
- Comfortable walking or hiking shoes
- Backpack with something warm
- Throw away poncho in case of rain
- Hikers first aid kit
- Cell phone & head torch
- Hat and sunscreen
- Some snacks
- Bag your trash
Looking back, for all its notoriety India Venster lives up to its name. No amount of reading can prepare you for the actual experience. But it's well worth the effort.

Main image: Hike along India Venster for some of the best views of Cape Town. Photo Jay Caboz.